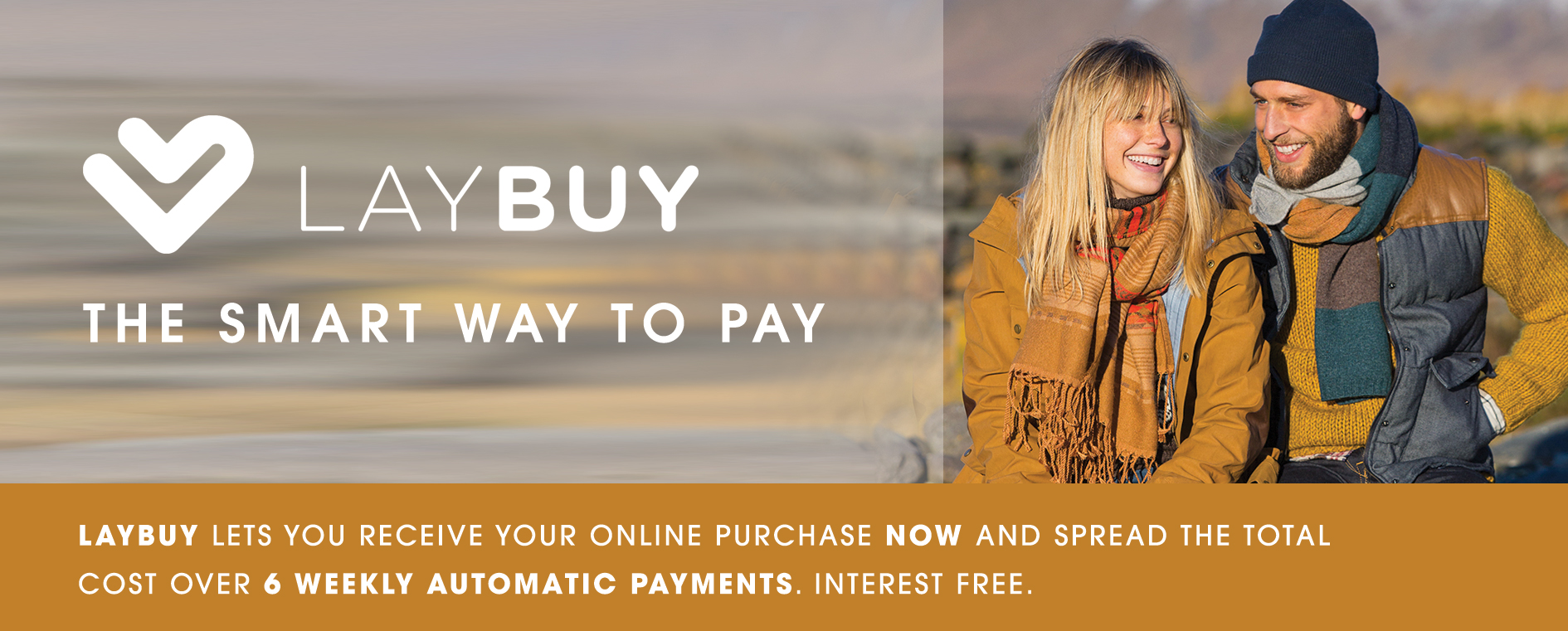 WHAT IS LAYBUY
We've added a new payment option to online purchasing.  Laybuy allows customers to purchase online, have the order shipped immediately and pay for it over a period of 6 weekly instalments, interest free.  There are no extra costs. A growing number of merchants are using Laybuy as another payment option so customers can order and receive items as normal without having to pay the full amount immediately. This means that you don't have to wait for that special item and you can secure your size before it sells out.
What do I need
A valid Credit Card or Debit Card.
Who can use it
Anyone purchasing online can register to use the Laybuy payment option.  When using the Laybuy payment option you are entering into an Agreement with Laybuy and you agree to their Terms and Conditions which apply to the access and use of Laybuy's payment platform. For a full copy of the Laybuy Consumer Terms and Conditions click here.
Please also note that when purchasing product through this website (regardless of which payment option is chosen) you agree to our standard 'Shipping and Returns' policy found on our website. Delivery is within New Zealand only to residential, commercial, rural and PO Box addresses.  We are unable to ship outside of New Zealand.
HOW IT WORKS
As a first time Laybuy customer, choose the payment method 'Laybuy' at checkout and follow the relevant prompts in order to create your first time Laybuy login. You will then be asked to provide payment details as usual to complete your purchase.
For returning customers choose the payment method 'Laybuy' at checkout and then simply enter the Login details to complete your purchase.
A platform of six equal weekly instalments is calculated at the time the order is placed. The first instalment will be due and payable at the time you purchase the product. The second and subsequent 4 instalments will be due and payable on the same day in the weeks following.
Easy returns
Simply return your item/s as normal in accordance with our Returns Policy.  Once we receive the product and the return criteria is met, we will refund Laybuy the full amount under the Returns Policy.  Laybuy will then credit the funds to your nominated debit or credit card and adjust or cancel your payment schedule as necessary.
LEARN MORE About Laybuy by visiting their website www.laybuy.com.